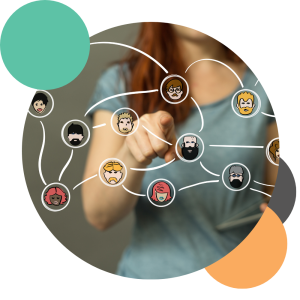 Finding staff is a major challenge. Agency spending is escalating and services are impacted.
Everyone is fishing in the same candidate pool.
Employee referral is the proven best source of high-performing employees,
but a hassle to administer and hard to keep top-of-mind with staff.
As a result, they only deliver a fraction of their true potential.
Helping clients tap into the best source of staff
saving them job board, overtime and agency costs.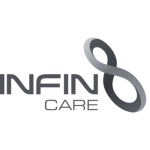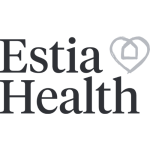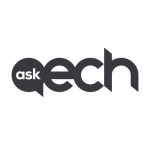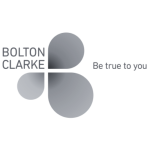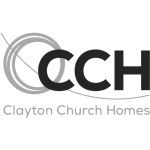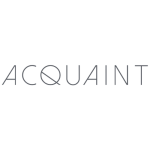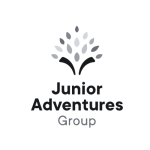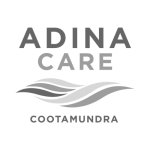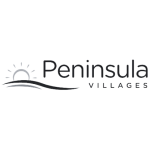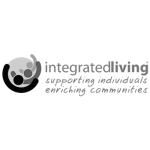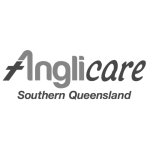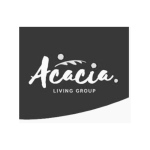 Whether you already have a (spreadsheet or paper-based) referral policy in place or are starting from scratch, Care Friends takes employee referral into the 21st century.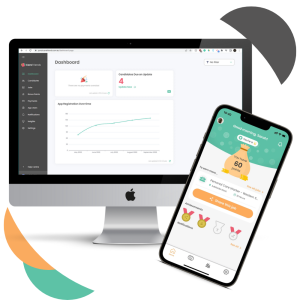 Care Friends is different!
Care Friends turbocharges referrals by using micro-rewards, gamification and automation.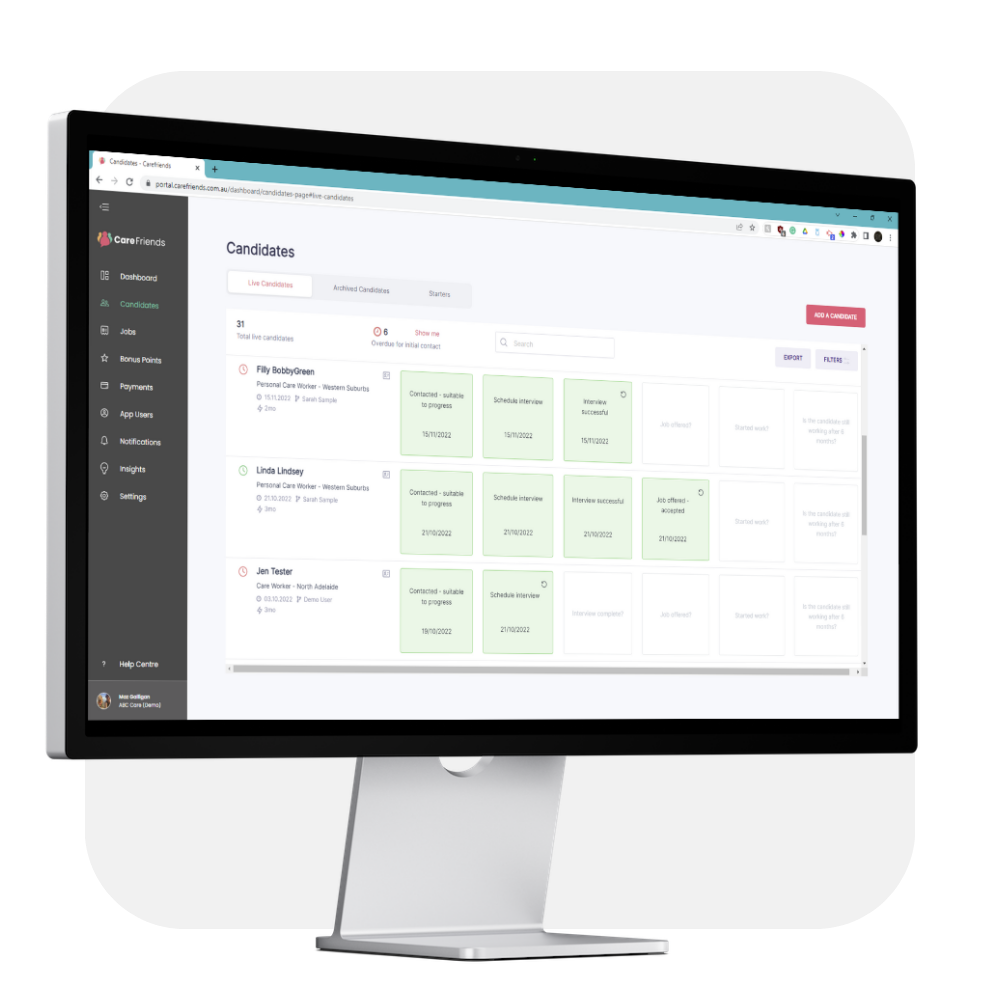 Referral Portal
The referral portal manages everything referral and bonus point related so you can ditch the spreadsheet.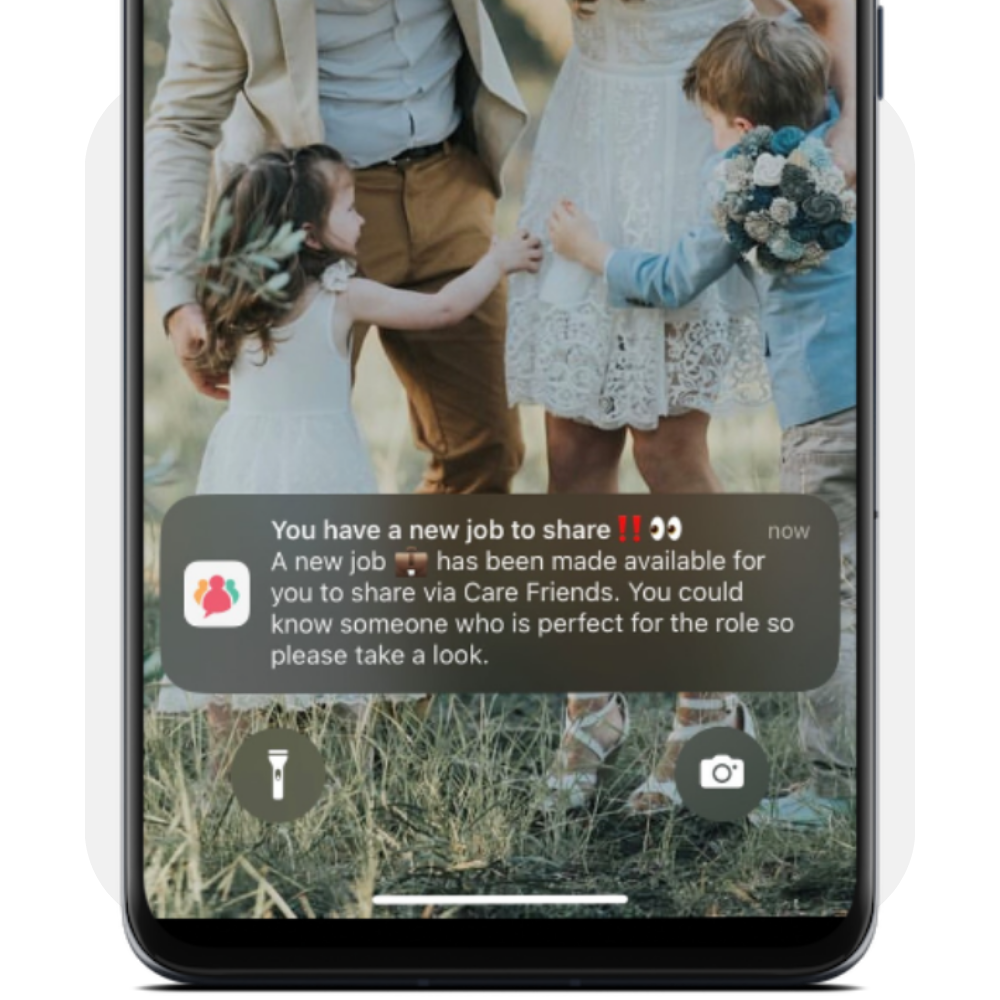 Notifications
Once a job is made available, relevant employees are notified. This helps keep referral top of mind.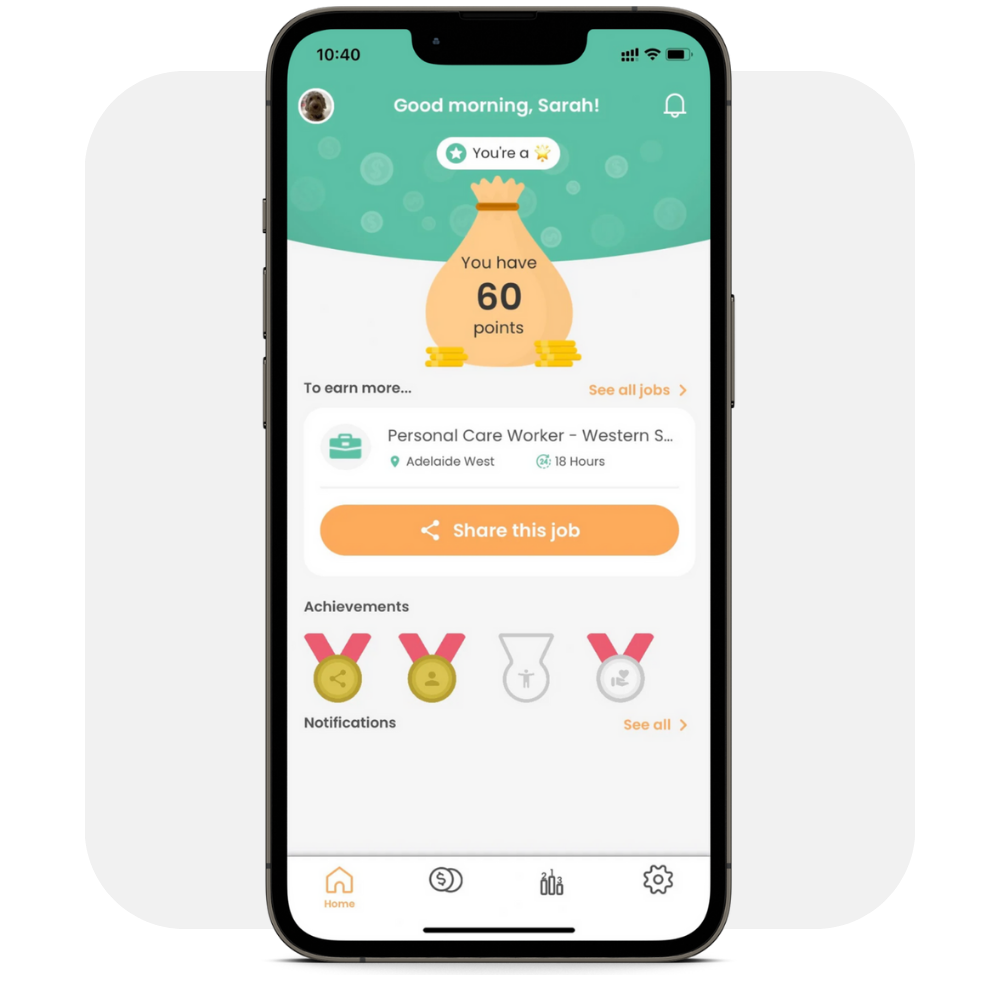 Simple to use
The app is co-designed with clients and employees to ensure it's super simple to use with no training required.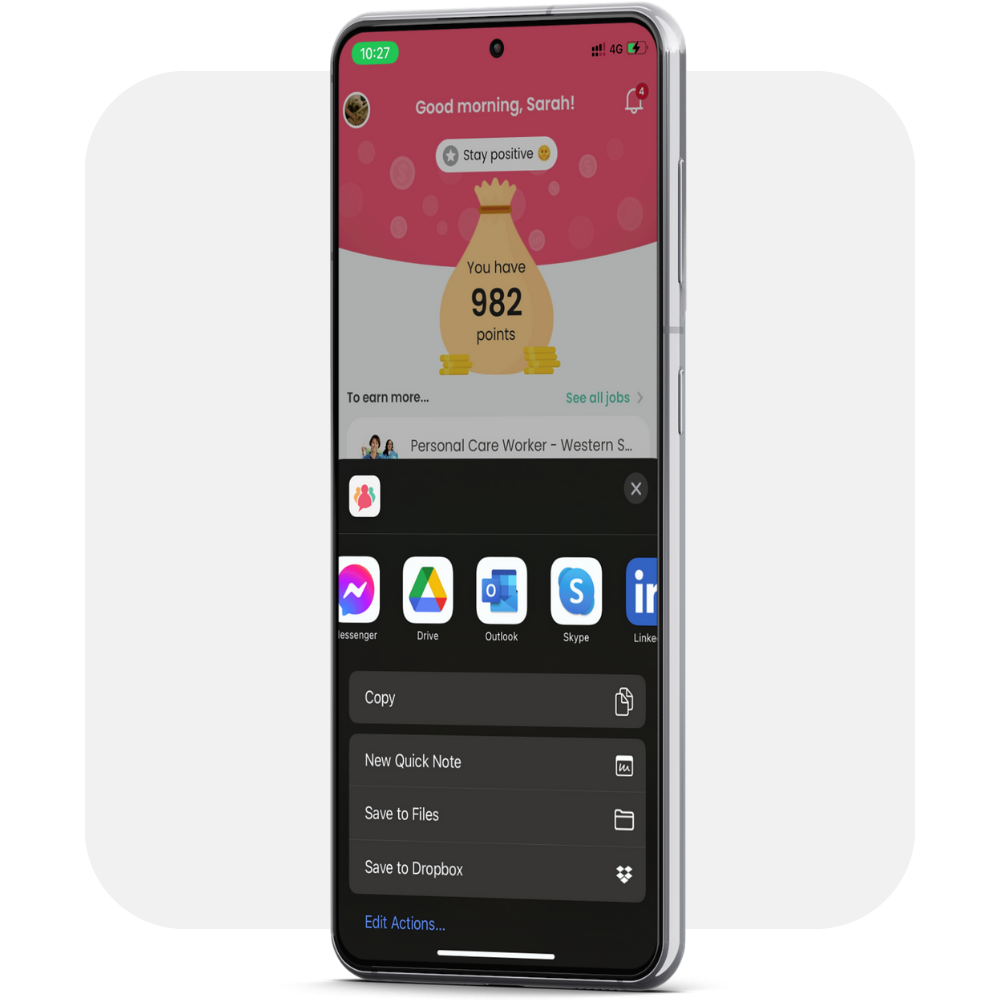 Easily share jobs
Easily share jobs via the phone's native share function; SMS, WhatsApp, Social Media, email and more!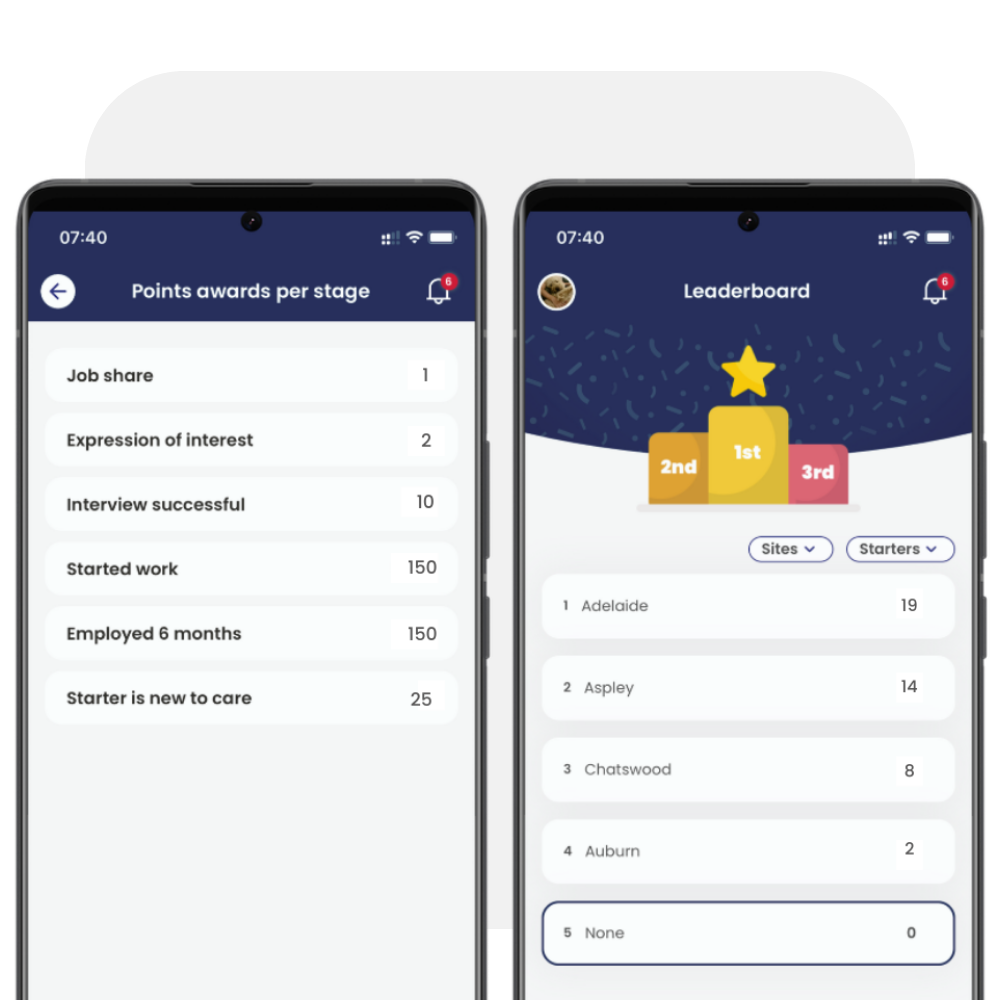 Rewards and fun
Care Friends uses reward psychology and gamification to make referring fun and keep referrals coming.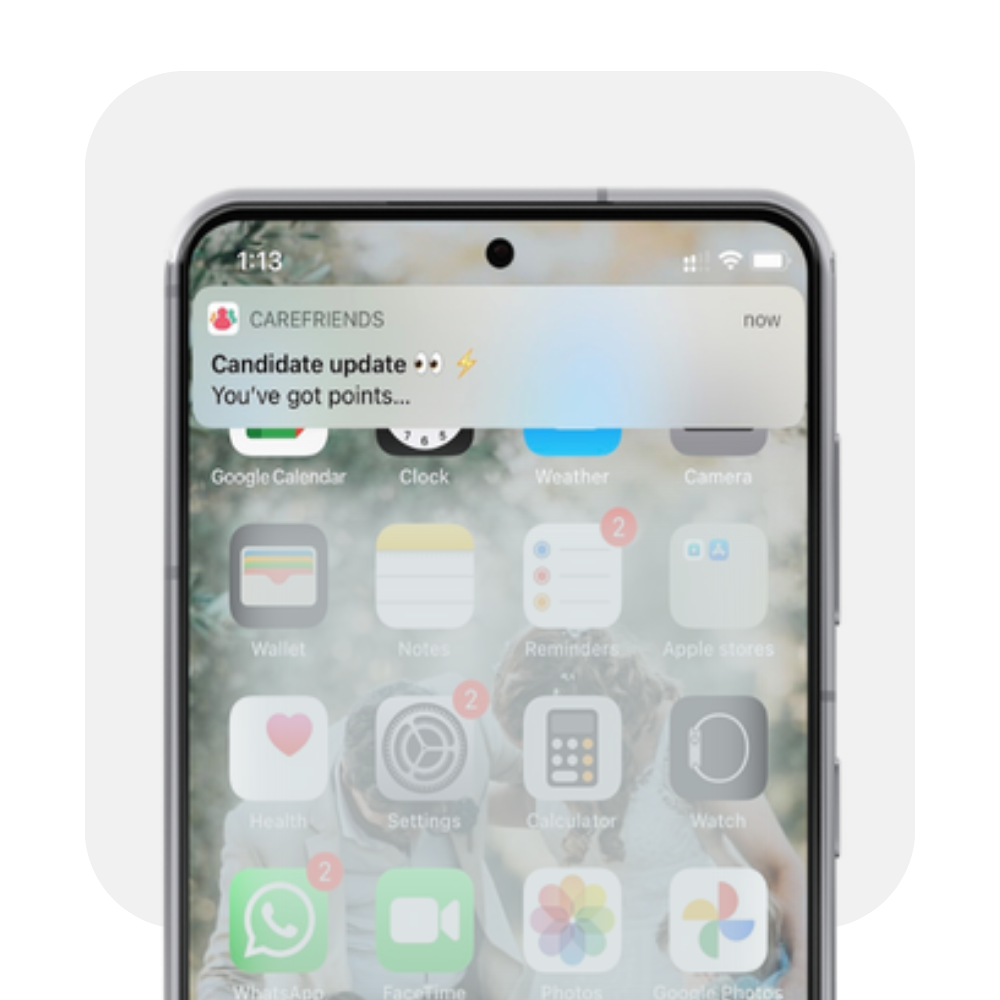 Stay informed
The referring employee is kept up to date of referral progress and won't have to bother the recruiter for updates.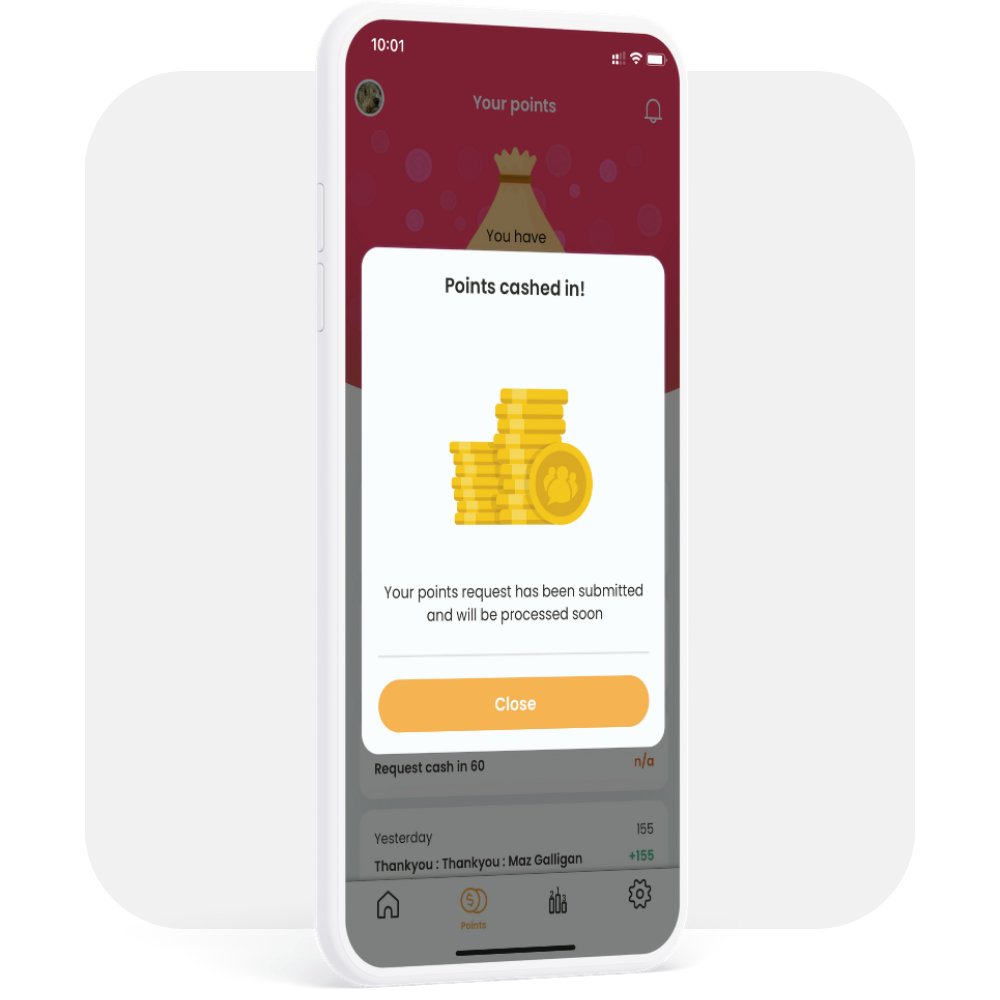 Redeem rewards
Employees choose when to cash in their points and the portal keeps track of all requests.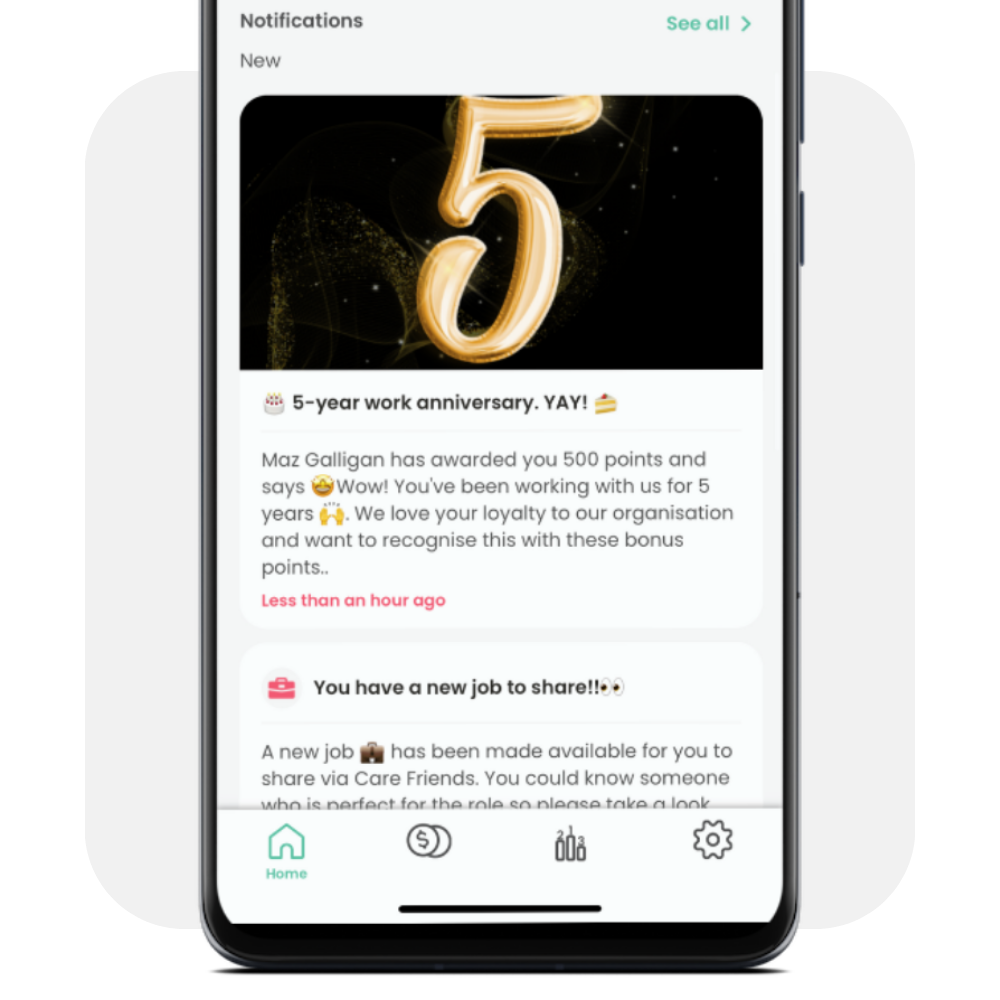 Extra bonus points
Care Friends can also be used for reward and recognition via the simple and instant bonus points functionality.
Calculate how Care Friends can help you recruit
Which equals
XXXX

vacancies annually
With participation from your employees, Care Friends can help your organisation achieve*
XXX job offers via employee referrals, or
XX% of your annual recruitment task
And those new, referred, employees are likely to stay 50% longer than new starters from other recruitment sources!*
*based on actual averages and results from current Care Friends users
Improve tenure and reduce staff turnover
Reduced overtime and agency costs
Tap into your local communities.
Money spent on your staff instead of externally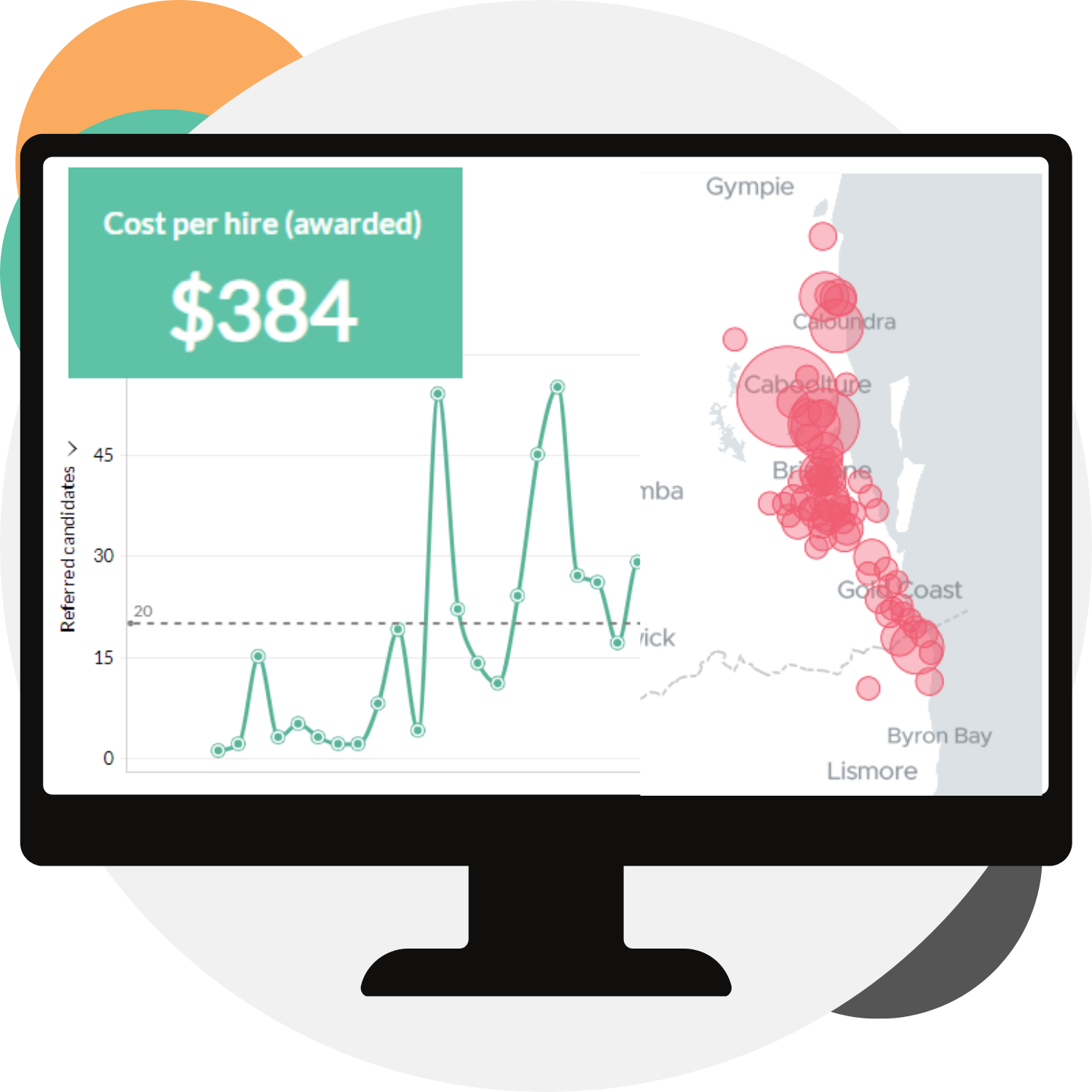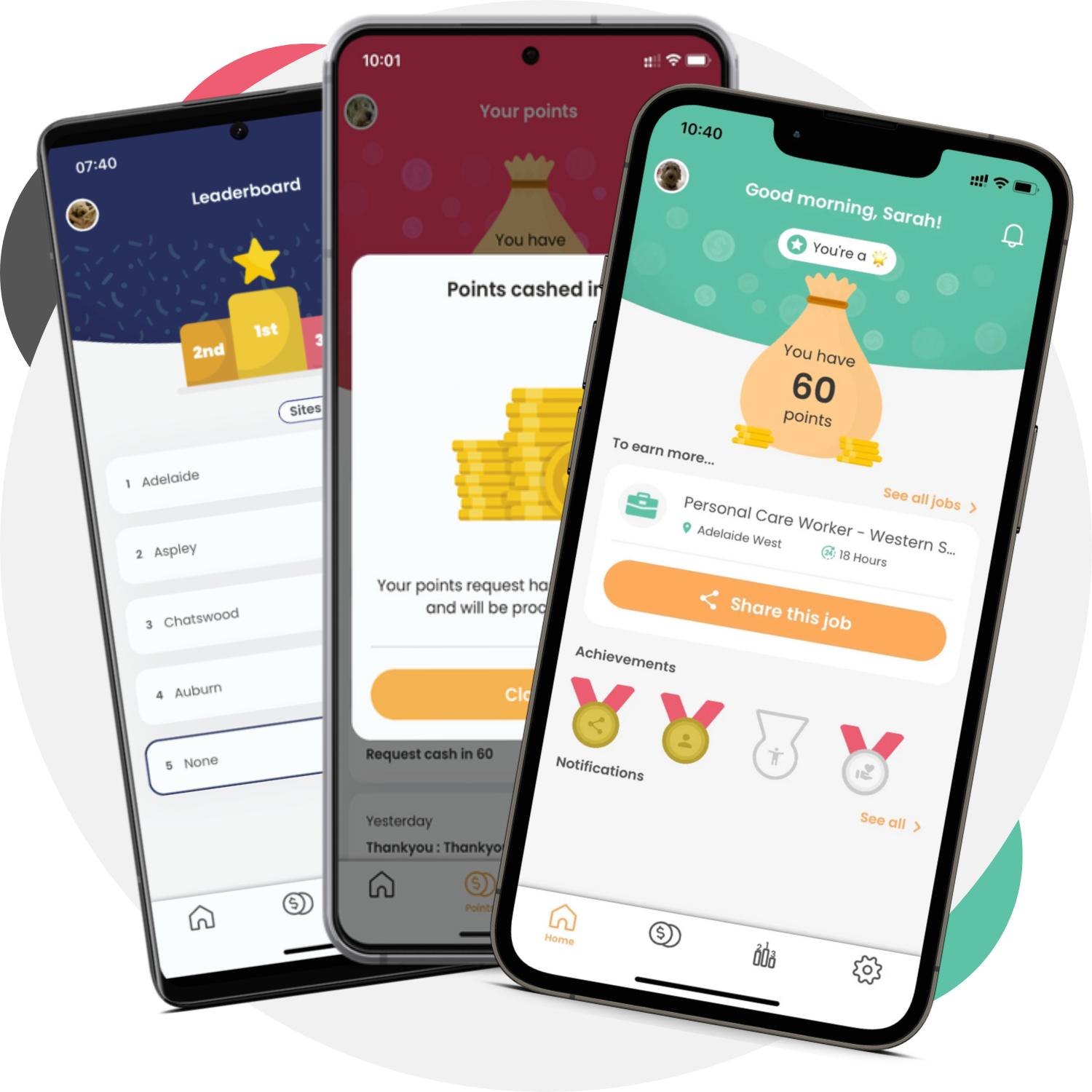 Easy-to-use app codesigned with employees
Earn rewards for each step of the process, not just for successful hires
Stay motivated and engaged by earning extra bonus points for good performance
Easily keep track of how many points/cash they have earned
Leaderboard makes referring fun and competitive
Generate a regular flow of high-quality candidates
Save time through automation
Easily share jobs with employees
Build trust with staff by not overlooking a referral payment
Integrates with many recruitment systems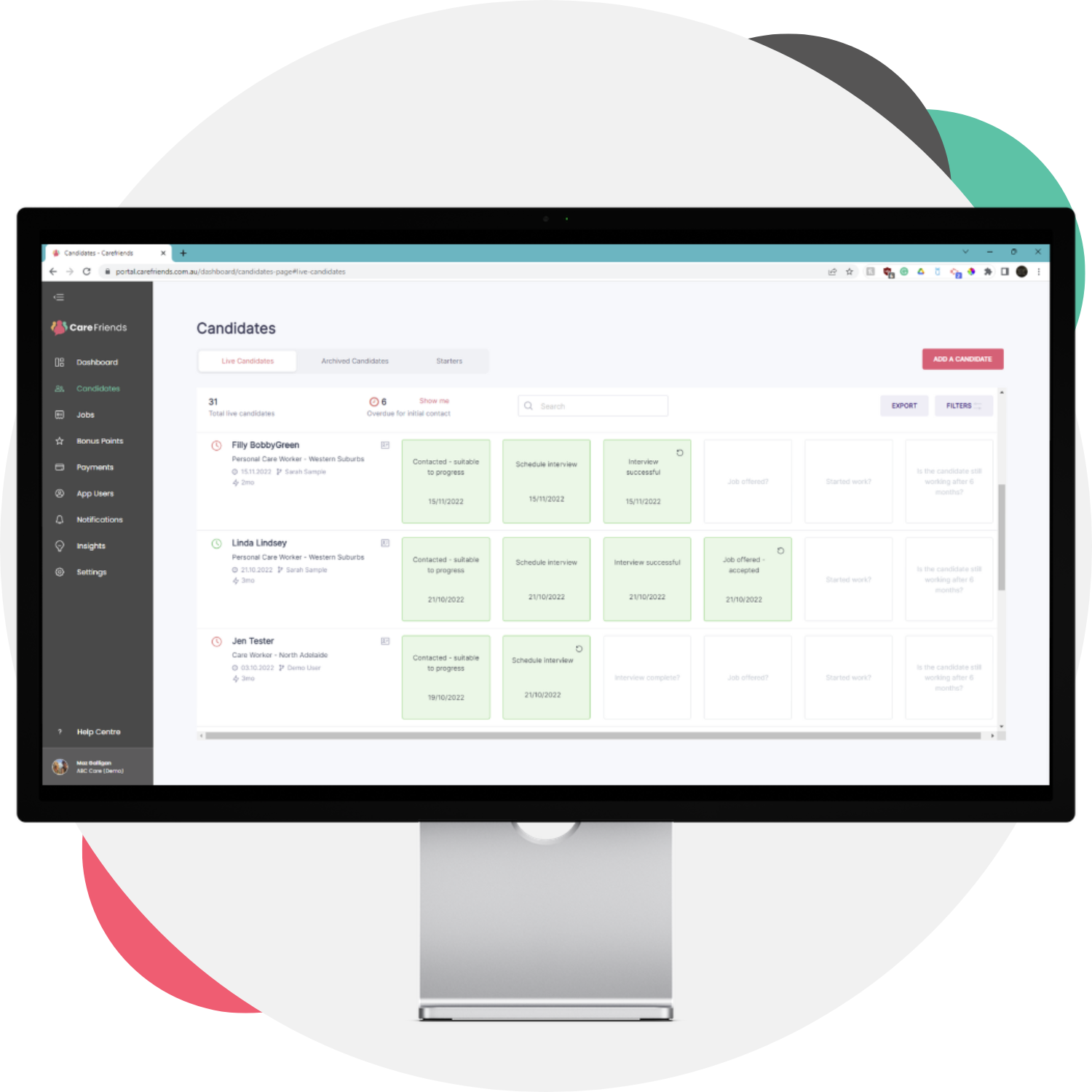 What is the pricing model for Care Friends?
Care Friends is offered as an annual licence which is based on your organisation's headcount. Book a chat to get a quote and possible ROI for your organisation.
Does Care Friends integrate with my ATS?
Likely! We use Merge.dev as our integration middleware provider which enables easy integration with over 40 Applicant Tracking Systems (and ever-growing), including Workday, JobAdder, SuccessFactors, Taleo, Smart Recruiters and Cornerstone. Check if yours is listed here.
Can I customise the reward points?
Yes you can! Care Friends boost referrals, because employees are rewarded for the action that matter: sharing jobs. They no longer have to wait for their referred friend to start work or reach probation to get their pay-out. With Care Friends, as their referred friend makes it further into the recruitment process, the employee receives increasingly larger rewards. This type of reward psychology via microrewards not only boosts referrals, it also makes referring fun. You decide the breakdown of the total referral reward over the different stages. Care Friends also allows for different rewards for different jobs.
Can I have different rewards for different jobs?
Yes, you can! Well, very soon at least. Our developers are finalising and testing this new feature, where you can have different rewards for different jobs (called Tariffs). It will be ready very soon…
Can I try before I buy?
We do not offer a free trial of Care Friends as most of the work is front-loaded and most successful if our guided launch planning is followed. However, we do offer paid trials for enterprise clients who want to trial Care Friends on a smaller part of the business, often a select number of sites. Contact us to discuss this.
How do I launch Care Friends to my employees?
With our help. We will guide you through the launch planning and the launch itself via simple and structured regular emails as well as a couple of (fun) planning meetings.  Your Client Success Manager is by your side, supporting you when needed. This guided launch planning takes a lot of the work away from your desk and ensures all aspects are covered for a successful launch.
How much time does it take to launch Care Friends?
The launch of Care Friends has two easy steps:
The launch planning. This is the time where, with our guidance, you start to communicate to the business about Care Friends. You will introduce the new referral program to your employees and build excitement for the app. Our step-by-step guidance planning ensures you cover all bases for a smooth and complete launch planning. This step can take from two weeks to a bit longer, depending on your organisation.
The launch itself. This is the moment your employees are able to download the app and start sharing!
How secure is Care Friends?
Very secure! Care Friends is built with the latest security protocols in mind. The platform can be set up with different sites and different permissions. You also control which employees can take part in your organisation's referral scheme.
Can I change the look and feel of the app?
The app can be customised in your colour scheme and you can add your own text, images, videos and logos to your jobs. You can also customise the notifications that go out to app users and add your own referral policy rules. We will guide you through this to ensure that the app feels totally "yours" for your employees.
How can staff refer a friend?
Easily, via three taps on their phone. They choose the job for which they want to refer a friend and share it using the innate share function on their mobile. Most often this is via a text message, WhatsApp or social media. It's all supported!